Spencership Monaco
'Le Ruscino',
98000 Monte Carlo
Tel:+377 979 70 777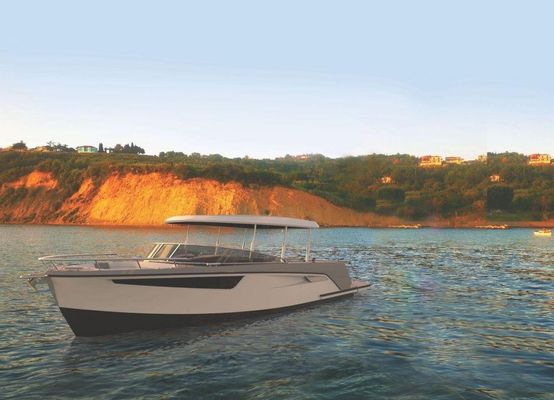 2021 Alfastreet Marine 23 Open Motor
THE COMPACT BOAT FOR FAMILY AND GROUP EXCURSIONS  
The 23 Open provides even more comfort with her luxurious lounge areas that seats up to 8 persons. Adjustable and comfortable front and rear seats with retractable cockpit table make this 23 Open model the most spacious model in its length category. The easily accessible bathing platform makes the 23 Open model a great way to take a swim in the sea or a nearby lake and makes her the perfect boat for fun on the water.
UNIQUE PATENTED HYDRAULIC HARD TOP WITH 5 YEAR LIMITED WARRANTY
The most attractive and recognizable feature of the boat is definitely the hydraulic hardtop roof made of carbon fibre and including side sliding doors, which is currently the best solution available on the market. The roof can be closed at a distance of up to 30 meters in less than 30 seconds, so that the boat is completely protected from all the external influences, such as rain, leaves and other dirt.
SUPERIOR FUNCTIONALITY
The design is uncompromising in the way that functionality comes first. The 23 Open model offers impressive space, and the freedom to move around in all conditions. With the Open bow, this model can take up to 10 persons and she is certainly one of the most spacious models in this length category.
EASY ACCESS
Moving around on the boat is easy, whether you'll go high speed or ride big waves at the ocean. The unique and innovative back-sliding step offers an easy access to the bathing platform or can serve as an additional entrance to the cockpit.
BOW DESIGN
As the bow is placed into teak wood frame, relatively comfortable movement is enabled, while the stainless steel fence serves for better safety. The bollards are placed immediately underneath the fence, which makes them easily accessible with stainless steel protection that protects the deck from potential rope damage. The electric anchor winch with 30 m long stainless chain and 5 kg anchor is well hidden and provides easy and simple anchoring.
EXTENSIVE LOUNGE AREA
The well-designed cockpit area offers an impressive amount of space and comfortably seats up to 10 persons. There is a place for a small, but well-organized kitchen with a 30l or 36l stainless steel pull out fridge or a 64l classic fridge.
CUSTOMIZED BATHING PLATFORMS
The unique wooden or GRP bathing deck additionally prolongs the boat's stern and gives it a more prestigious look. Tailor-made stainless steel protection and top-quality made folding ladders, should not be overlooked. We offer plenty customization choices for your bathing platform.
TECHNICAL SPECIFICATIONS
Engine Outboard 20HP or 25HP | Inboard 170HP - 300HP     Fuel tank 32l outboard and 270l inboard